By Bill Howard (aka Heywood), Malibu Kayaks Pro Staff
Spend five minutes on the phone with founder and CEO Chris Cenci and you'll quickly come to realize what I suspect many have found to be true, this guy has an unbridled passion for fishing. Combining over 30 years of offshore and inshore experience, Chris noticed a need for higher quality fishing lures to suit his style of power fishing. With years of tournament fishing experience under his belt, he turned his attention towards producing lures that just weren't available from most manufactures. Founded in 2007 Slayer Inc has positioned itself as the premier manufacture of high end fishing tackle for the inshore saltwater angler.
Slayer Inc produces two styles of jig heads, weedless jerk bait hooks, inline spinner bait lures, and spinner bait lures. For the first part of this review I will be focusing on the jig heads and weedless jerk bait hooks. These two are the ones that I prefer and use the most.
The Predator XXX Jigs
Standard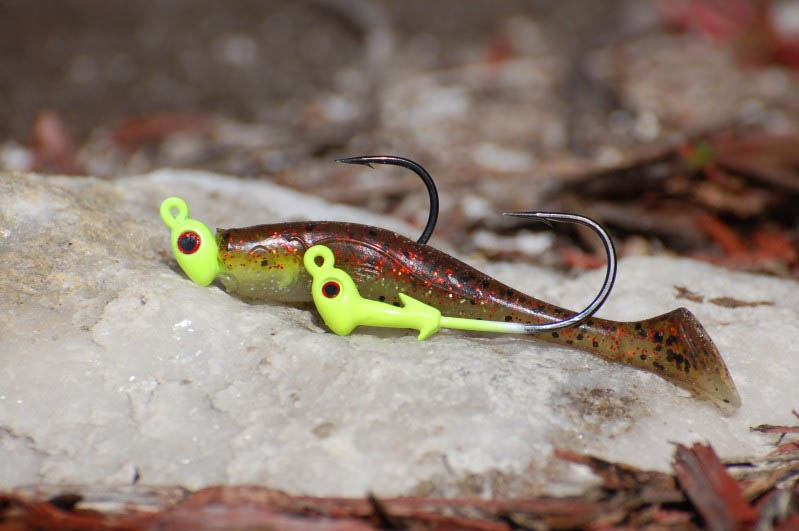 Available in 1/16oz., 1/8oz., 1/4oz. and 3/8oz. sizes with 3/0 or 4/0 hook (3/8oz only available with 4/0 hook). ***3 jigs per package
"When fishing with soft plastics in deeper water we found that most of the jigheads we were using would loose their finish from scraping around the submerged rocks, barnacles, and oysters. We were also frustrated that most brands came in different weights but only had one size hook which was a disadvantage when we wanted to use different sized baits. The Predator addresses those concerns with a variety of weights, colors, and hook sizes in addition to its triple dipped finish and recessed holographic eyes which will endure the abuse of heavy structure fishing."
I particularly like these jig heads for a couple of reasons, especially the fact they come in different hook sizes. I feel this is really important when using larger lures, such as the Exude RT Slug. I would use a 4/0 size with this lure, and scale down to the 3/0 for an Exude Gold Dart or DOA Cal. The other reason is the two prong bait keeper that Slayer Inc incorporates on their jig heads.
Weedless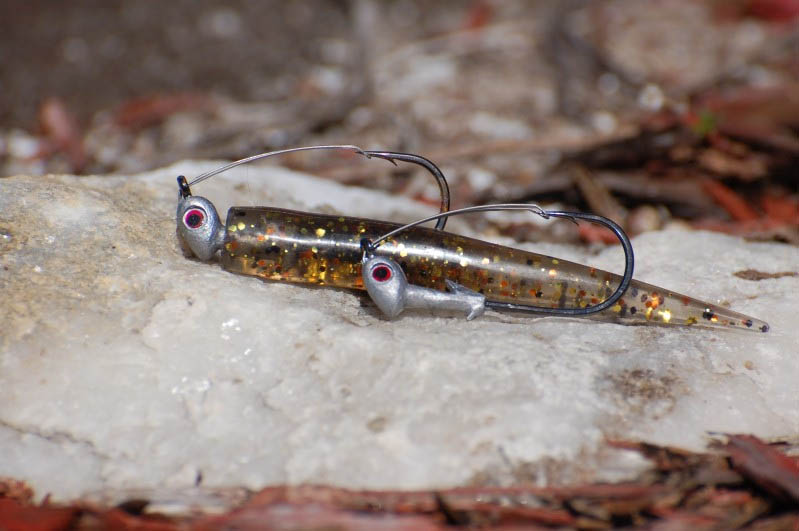 Available in 1/8oz. and 1/4oz. sizes with 3/0 or 4/0 hook. ***3 jigs per package ****Red, Pearl, Chartreuse and unpainted.
"The perfect solution for fish feeding on the bottom while in the grass. Whether you're fishing around spartina, turtle grass or hydrilla, this jig will give you the opportunity to present your bait to fish that have their nose down; all the while keeping your bait grass free. Awesome for tailing redfish!"
The Destroyer XXX Jigs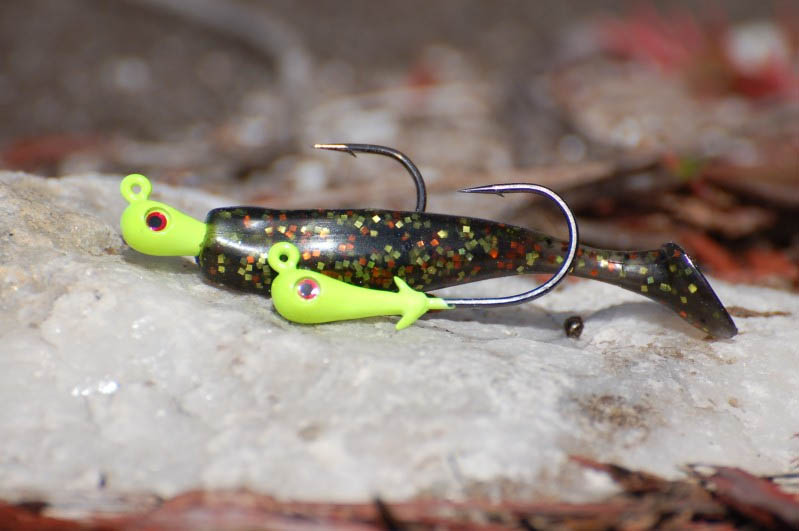 Available in 1/8oz., 3/16oz., 1/4oz. and 3/8oz. size with 3/0 or 4/0 hook (1/8oz. only available in 2/0 hook, 3/8oz. only available with 4/0 hook). *** 3 jigs per package.
"Tired of using other brands only to have the eyes scratch or fall off when he fished them around heavy cover, Chris Cenci developed the recessed holographic eye of The Destroyer and added the extra quality of a triple dipped finish. Another design advantage came from Eric Taylor who expressed the need for a better bait holder so the plastic stays on the jig when being skipped under docks and mangroves. The Destroyer fits the bill for live bait applications as well."
XXX Penetrator – Weedless Wide Gap Hooks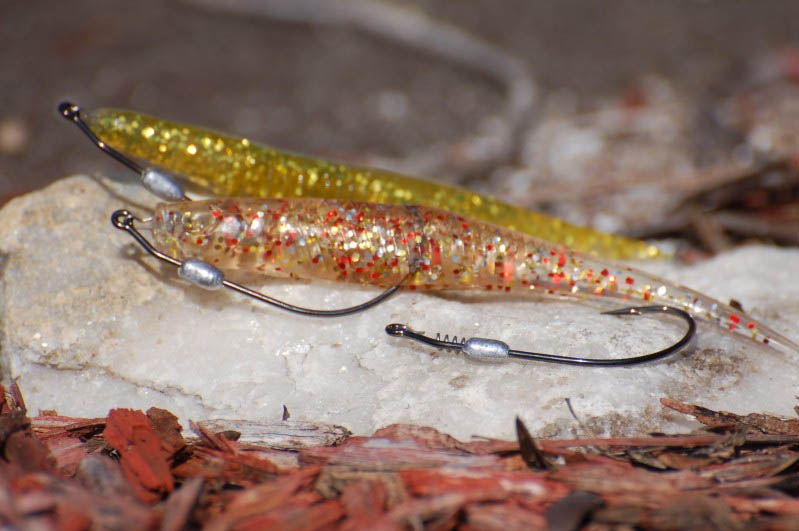 "The Penetrators are Mustad Ultra Point hooks which come with a marine grade stainless bait keeper. These fish slaying hooks are available in red or black nickel and 3/0, 4/0 and 5/0 sizes with 1/16oz, 1/8oz, 3/16oz and weightless weights. The Penetrator works great with any soft plastic or scented bait rigged weedless".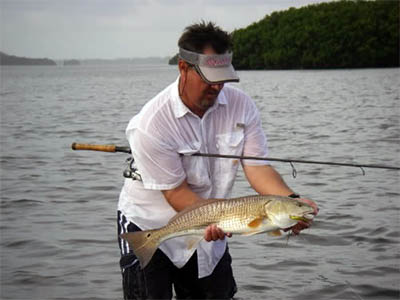 The weedless hooks were my first introduction into the world of Slayer Inc. As a big user of soft plastics, I found the usual weedless hooks just didn't fit my liking. I found the hooks from Slayer Inc to be super strong, super sharp and totally superior that what I could buy locally. I especially like the larger style screw type bait keeper. Once you screw the bait all the way up to the gap at the eye of the hook, you get way more of the bait secured to the hook, preventing your bait from being dislodged once it gets whacked by that big redfish.
I prefer the 5/0 size hook, and the weight I use depends on the water depth and type of fishing I will be doing. If going after tailing redfish, I may choose the 5/0 in 1/16th oz. This setup works well on a Gulp 3″ Shrimp rigged backwards. It's already a heavy bait, so I like the 1/16oz weight as it will sink slower and not bury too far down in the grass. The 5/0 size works just fine on redfish, even pesky rat reds.
After talking with Chris for hours about the shared passion we have for inshore fishing, I have found my lure supplier for as long as he will continue to make them. Great customer service, reliable shipping (he usually throws in some extra goodies with each order) and a great product.
A quality product made by some quality people, check em out and make Slayer Inc your lure supplier today.