Everyone seems to have a different take on anchoring systems and stake-out poles for kayaks. My number one anchor is not really an anchor at all, but a stake out pole. It's far more convenient than a traditional anchor, absolutely stops the kayak in place, and does not drag or come out in high current conditions.
I recently had the pleasure of reviewing an excellent new stake-out pole for kayaks and boats, the Wang Anchor. With the hilarious 'Hang Out With Your Wang Out' slogan to go along with it's catchy brand name, the Wang is definitely making a name for itself.
Made of fiberglass that is relatively rigid, the Wang has a pointed end for staking out in mud or penetrating rocky bottoms (of places you fish!). The Wang has a duck foot on top do you can also use it to pole your kayak when standing. The standard size is 8′, but the folks at Wang Anchors also offer custom lengths so you can get a Wang that's right for you.
I have both the 6′ and 8′ versions and use them both from my sit-on-tops. On most days when I am fishing a low tide cycle I take my 6′ Wang which is longer than most stake out poles which usually are 5′ long. On days when I fish a high or flood tides I take my extra long 8′ Wang so I can stake out comfortably in deeper water.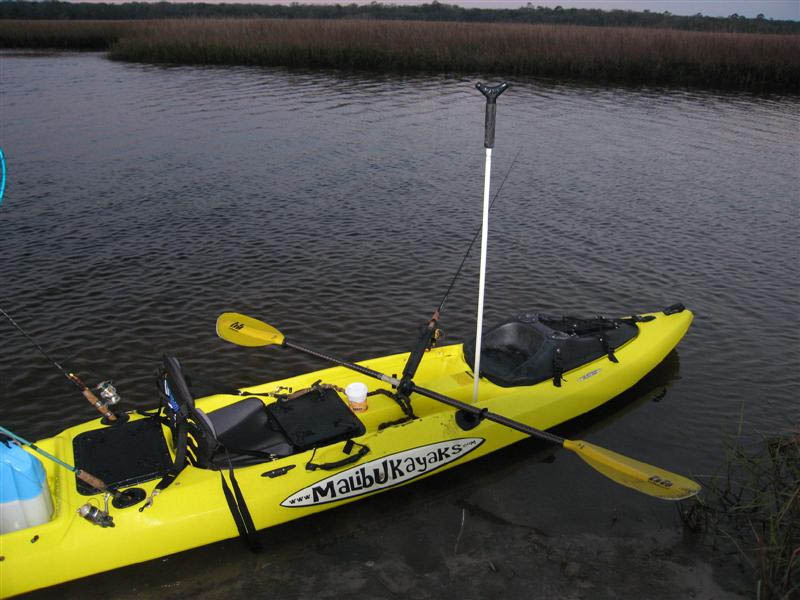 While some anglers rig anchor trolleys for variable anchor positioning, I stay with a pretty simple system and put my stake out pole through the scuppers depending on what orientation I need. Wang also has a bracket for mounting on boats, canoes, and kayaks if you dont want to stake-out through a scupper, or you can always stake-out externally and tether the Wang to your kayak. The Wang easily stores using a paddle holder on the side of the kayak.
All kidding aside Wang Anchors has a nice product that does the job well, has great durability and flexibility, and a reasonable price point. For more information on the full line of Wang Anchor products line visit www.WangAnchor.com.