Kayak Fishing Tournaments
Over the last few years the number of kayak fishing tournaments throughout the state of Florida has increased quite a bit, and this month we'll take a look at how to fish them successfully and which events should be on your radar.
The catch-photo-release format featured in most kayak fishing tournaments has been revised quite a bit over the last few years, most notably with the migration to consumer digital cameras instead of disposable cameras. Most events require anglers to utilize a standard measuring device issued at the captain's meeting, and to include a unique token in their fish scoring pictures to frame the time of the catch to after the captain's meeting. The measuring device is often a piece of flat PVC like vertical blind material with a measuring gauge sticker applied or imprinted on the material. Anglers are also usually required to take a launch picture with their kayak, measuring device, and unique token.
The catch-photo-release format fits kayak fishing very well for several reasons. Number one is because kayaks do not have sufficient live wells to keep fish alive for a weigh-in. Secondly having a large group 100-200 kayak anglers launch and return to a single location is untenable (picture the Taladega of kayakers) so most events allow anglers to fish a 50-100 mile geographic radius to disperse the fleet and allow anglers to get a little elbow room.
Like most fishing events kayak anglers use tools like Google Earth to find good launches, and do some amount of prefishing to figure out where to catch the fish. However the thing that makes kayak fishing tournaments unique is how to make sure you get that good fish scoring picture. In a catch-photo-release event it's not necessarily who catches the best fish because the score will be based on the pictures, so having a good protocol for taking a good fish scoring picture while on a kayak is key.
What makes a good fish scoring picture? The picture should be taken from above the center of the fish and the entire fish should be visible on the measuring device with the head at the zero mark. The fish's mouth should be closed and the fish should not be stretched, bent, or manipulated to enhance your score. Usually most kayak fishing events require the kayak to be in the picture as well. And finally make sure you remember to include the required unique token.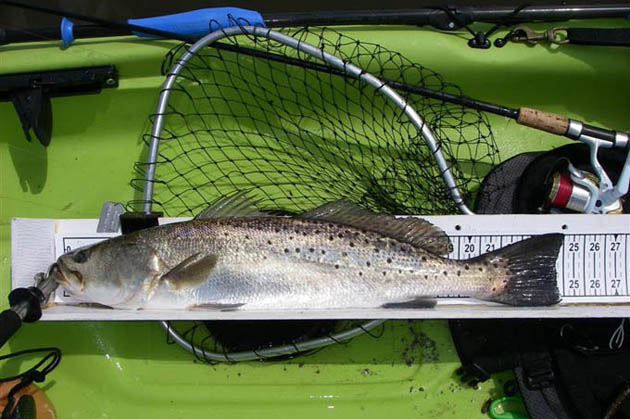 Sounds simple eh? Well I can promise you that everything that can happen to mess things up does happen over time. Cameras go splash in the water and don't work. Measuring devices and unique tokens are lost. Anglers forget the token in the picture. Fish jump out of position and don't sit still and smile for the camera. You can't find a good flat spot to get a nice measurement picture. Trust me I've heard and seen it all – just remember if it happens to you that you are not alone 😉
Here are a few tips for avoiding these common problems. Many anglers take a measuring jig, typically a board with some large rubber bands or mini-bungees attached to it. The measuring device can be laid out on the jig for a nice stable platform for getting your photo. Attaching the unique token to the measuring device or jig is also another good idea. Make sure your camera battery is fully recharged and that your camera is set for still photos not video. Take more than one picture just to make sure, and take a quick peek at your fish picture before releasing the fish.
Once I catch a fish here are the steps I take to get a fish scoring picture while making sure I am able to perform a successful and healthy release. First thing is I put the fish on a fish grip (aka a 'redfish wrench') in the net, remove the hook, and leave the fish in the water. Then I take out my measuring jig, put it across the kayak with the measuring device and unique token ready to go, and then get out my camera. Next I take the fish on the fish grip out of the net and place it on the measuring board. I use large rubber bands to remind the fish to stay in place (not to strangle it), but keep the fish on the fish grip. Once the fish is in position for the picture I get the camera on, make sure the token will be visible, then remove the grip and start shooting pictures while using my left hand to assist with the fish if necessary.
2009 Kayak Fishing Tournaments You Don't Want To Miss
There are too many tournaments to list in our small space, so we will cover the four oldest and most significant ones in the state. All of these events award prizes rather than cash to keep things recreational, use a conservation-friendly catch-photo-release format, and some are specifically for the benefit of some great charities. Most could be characterized as a great kayak fishing party and get together with some nice fishing and prizes.
Jacksonville Kayak Fishing Classic – In its 6th year, the Classic is the world's largest kayak fishing tournament with over $70,000 in prizes and gifts. Last year 341 anglers participated and raised over $28,000 for the benefit charity DanielKids, and the 2009 event is shaping up to be another can't miss happening. Kayak anglers come from all over the country for this one which targets reds, trout, and flounder. The 2009 Classic is scheduled for May 1-2 and more information is available at www.JacksonvilleKayakFishingClassic.com.
DOA Lures Paddlers Tournament – Hosted by the great folks of DOA Lures in Stuart for the 5th year, this event is an artificial-only (DOA of course!) format targeting reds, trout, and snook. Participation is limited to the first 100 anglers, so it's key to get your entry in early for this fun gathering in the tidewaters of the Indian River. The 2009 tournament is slated for May 9 and more information is available at www.doalures.com.
Forgotten Coast Kayak Fishing Classic – This relative newcomer is going into its 2nd year in 2009. Hosted by the kayak fishing community of the Forgotten Coast (www.fcka.net), this event takes kayak anglers to the waters from the Big Bend area of the state up through Apalachicola and Sopchoppy. The target species are reds, trout, and flounder and the 2009 event is scheduled for March 27-28. More information is available at www.FCKA.net.
Online fishing tournaments at 321Fish.com – This site regularly runs online events for kayak anglers and boaters in a wide variety of formats from sponsored events with prizes to cash calcuttas. The online catch-photo-release format enables anglers from a wide geographic area to compete with each other while fishing when they want and where they want for various target species. The 321Fish.com online check-in system is always open and more information is available at www.321Fish.com.