Thought I'd brag a little, as well as help show how easy and cheap it can be to get yourself, as well as even the family, out on the water to do some small craft fishing.
I bought a 14' 3-seater Coleman Scanoe (squareback canoe) from Dick's Sporting Goods. Nice plastic canoe and fairly ready to do some fishing as-is, but...really...where's the fun in that? Time for some modifications and enhancements.
First came a thwart. It's not really needed in this canoe, because it's fairly well braced with the three seats already, but I added one because I wanted outrigger stabilizer pontoons and couldn't really figure out any better way to attach them. I tried Scotty gunwale clamps, but they just weren't very secure/stable.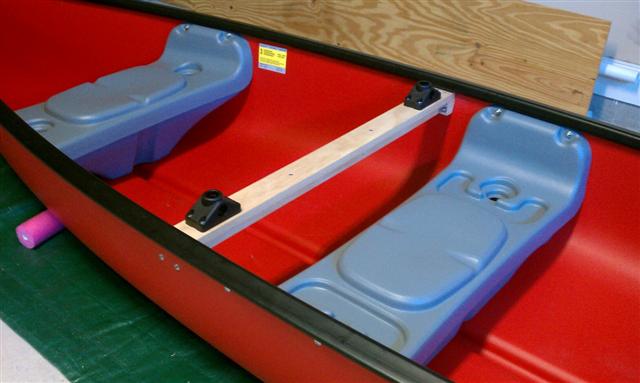 Here's a pic with an outrigger attached. I made the outriggers myself, using a similar design as the Yak-Gear outriggers, but instead of foam floats I used hard, plastic lobster floats, which provide a lot more displacement/buoyancy, as well as being a lot more durable with the oysters and barnacle rash. I also did not add the rubberized bed-liner type paint to the PVC, because from working a lot with painted PVC pipe, I know that what you spray on is easy to scrap off, and also the black gunwale on the canoe already gets way too hot in the sun, so I left the PVC white and just sanded off the lettering/logo. These outriggers work GREAT (can't emphasize that enough), allow me and my two boys to stand up and fish in the canoe without issue, and provide a lot more stability/peace of mind to the boys (and me) when out on the water.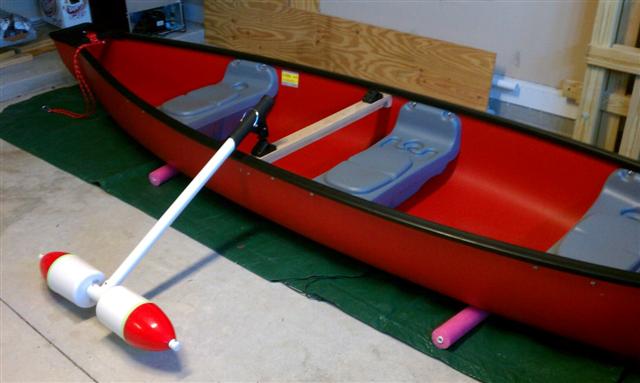 Here's the painted thwart, and the starting place of all the other more recent mods -- namely, a more comfortable throne for your's truly.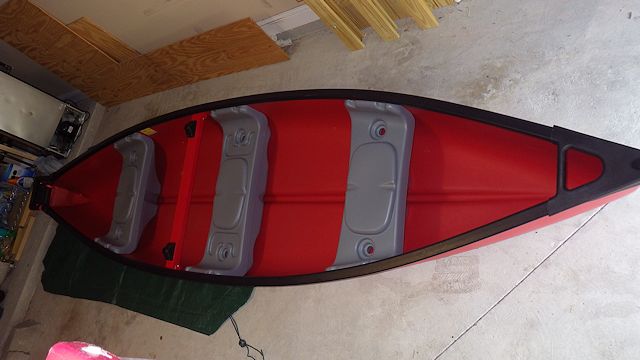 Standard rear bench seat -- definitely not the most comfortable and for my 6'3" height, it's uncomfortably low.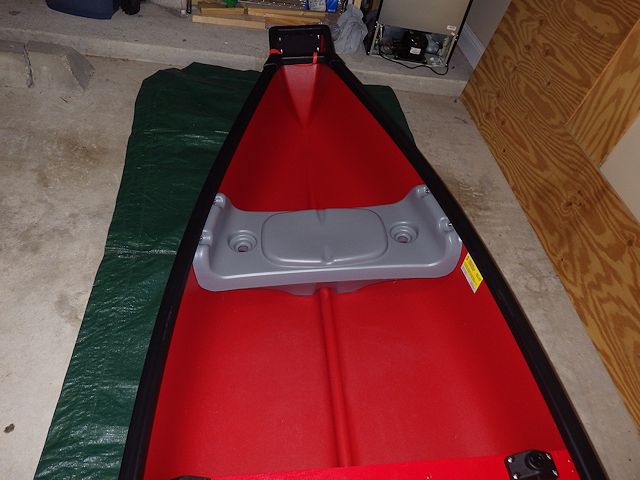 Old seat gone! That's one thing really nice about these cheap plastic canoes -- four bolts and a seat is out.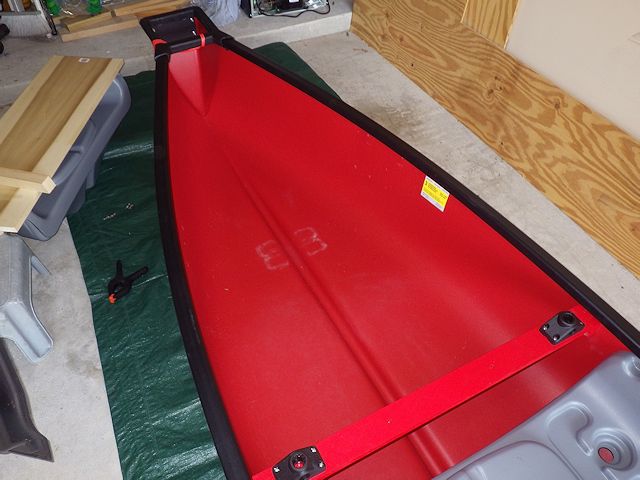 2x2 framing for the new seat. This was by far the most difficult part of this mod due to tapering, curved sidewalls. My miter saw doesn't really have very custom angle settings on it.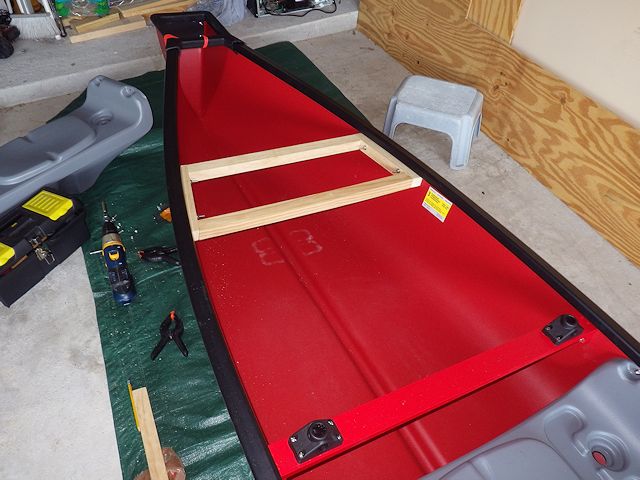 Top of the new bench seat -- nice piece of 1x12 hardwood remnant from Home Depot that I definitely didn't pay the normal $8/lf. When buying any small piece of nice wood at Home Depot, always check the remnant cart back in the lumber section for good deals.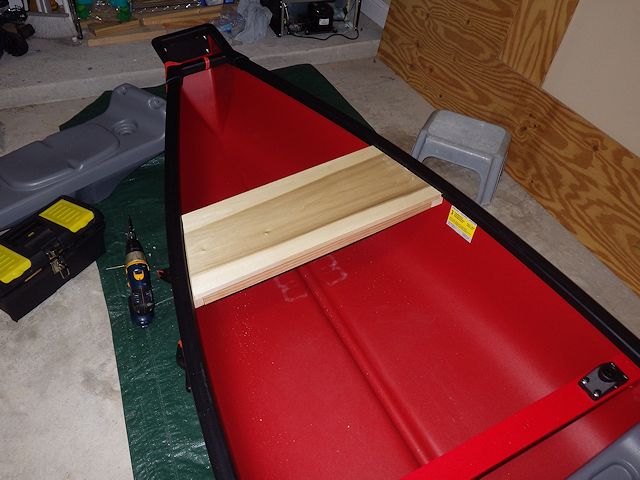 While coming up with a plan for a comfy swivel seat design on my rear seat, I installed some creature comforts for my two boys -- the cupholders built-in to the seats are too small for a standard can of soda (bad design), and putting a hole in the bottom of the built-in cupholders and calling it a rod holder just isn't going to cut it. These are VERY inexpensive Attwood rod holders, that offer all the benefits of the more expensive Attwood, Scotty, etc., rod holders except that these do not offer an adjustable angle. You can pivot them in any direction, they're fixed at the typical angle that everyone uses anyway, and offer the usual locking design for keeping both casting and spinning rods in place. $8 each! The cupholders are just a very inexpensive set of automobile cupholders that cost under $2 for a set of four. I bolted the rod holders to the piece of wood for a spacer (so the rod holder could operate around the lip of the gunwale), and then bolted the wood to the hull so that I only had to drill 2 holes in the hull. Of course I used stainless steel screws/bolts all around.
One like this for each of the boys: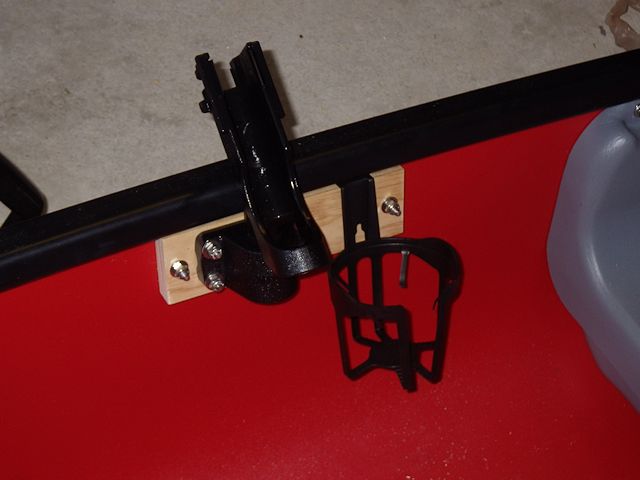 And two like this for me: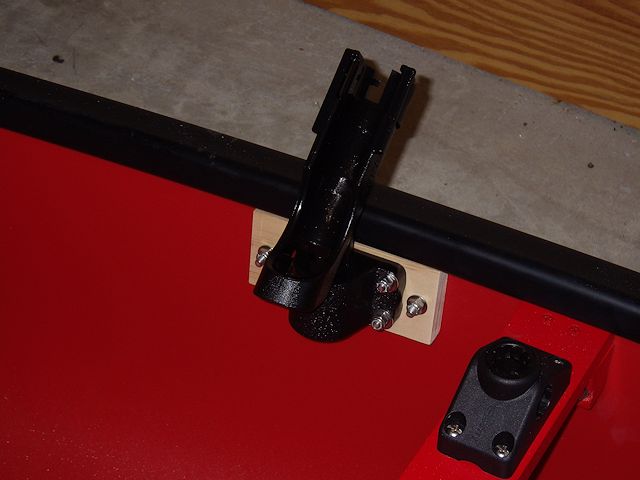 I then added a larger genuine Scotty Powerlock rod holder to the middle of my twart to handle our largest fishing rod (which my son actually uses), and then as you can see I figured out a swivel seat solution. Searching the internet resulted in this being the most common solution for installing a swivel seat in a canoe, and then when I saw JKF's very own Crusher using a very similar installation in his canoe, I figured good enough for Crusher, good enough for Internetpilot. I used an Attwood Swivl-Eze locking pin base. I tried to use a standard square swivel plate solution with a quick-release bracket, but I was having a heckuva time finding a swivel plate that would fit in the quick-release bracket, even when they were both the same namebrand. It was about the same price in the end, but the locking pin base solution seems more sturdy, and with no bearings that will likely corrode over time. I also put a thick coat of red paint on all the wood to match the boat and protect it from water.
Same thing with paint to the front rod holder/cup holder mounts, and then threw a couple of stadium cushions (of their favorite color) on the boys' seats to make them a little less jealous of my kingly seating arrangement.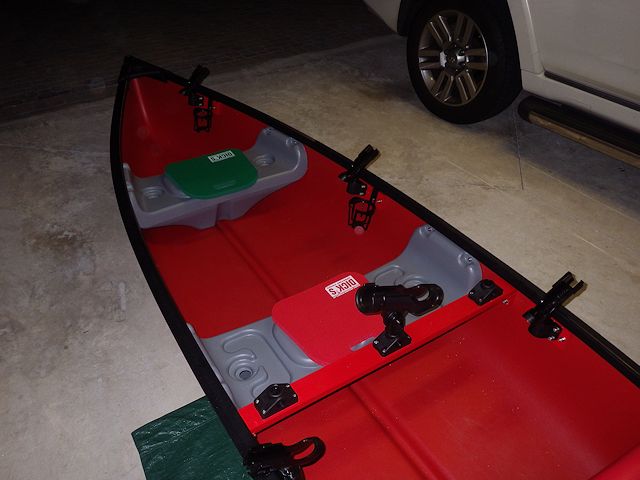 This is after our latest trip on Guana Lake this past Saturday with everything rigged pretty much how we used it. The only thing missing is the net that I took out of the red clamp-on rod holder behind my thrown seat (that was VERY handy).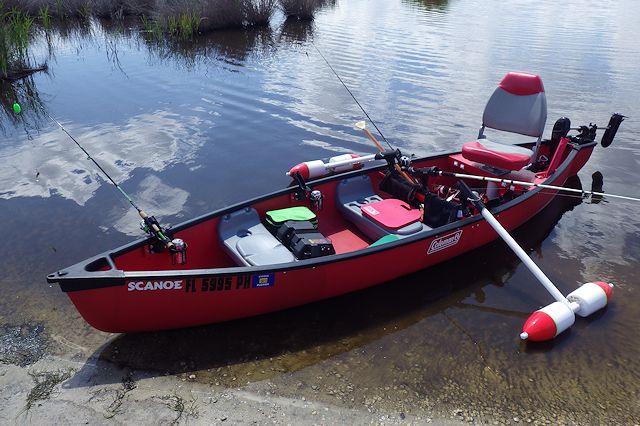 Everything worked great! Like Crusher said in another thread about the raised seat height causing the canoe to be tippy or more top-heavy, it really isn't much if at all. With the counterweight of the trolling motor, the heavy marine battery, a couple of coolers, general gear, and my two boys in their lower seats, I have plenty of weight keeping the canoe at a low center of balance. Not to mention the outrigger stabilizers did the job when I would need to spin around in my seat to lift/lower the motor, and I also have the anchor attached by there (so I only have to worry about keeping the hooked fish away from the back of the boat due to the motor and anchor).
The total price for everything so far is around $850 for a motorized, nicely rigged, 3-seater canoe. $200 of that is in the motor/battery and $130 is in the comfy rear seat mod. So if you decided to paddle it instead and just use the stock seats, you're looking at around $520 to get a family of three out on the water. It's been a lot of fun modifying/rigging it, and even more fun fishing in it with my two sons. I always worked on it with the attitude of even if I really bork everything up, it's only a $350 loss.
Now, for the sad part -- my boys are "over" this whole fishing hobby thing. It's a bummer for sure, but at least it lasted the whole Summer and we made some great memories. So, I'm looking at my canoe now that it's just me fishing and thinking, should I just move on to a single fishing kayak? I'd have to say, for now, no!
I'm a pretty big guy at 6'3", 235lbs, and I like the extra weight capacity, room, and stability that the canoe offers me. Now I'm thinking of ways to modify it so it's more centered around a single person, so I'm sure there will be some more fun mods and tweaks to come!
Hope this benefits someone who likes the idea of kayak fishing, but is looking to get the family on the water. A big thanks and kudos to Crusher (as well as other fishing canoe owners out on the internet) for doing it first and posting pics and videos that allowed me to get ideas or even blatantly copy what they did.