The primary factor for what materials could be used is the weight of the water bike. Short of the water bike somehow being ridiculously heavy, probably the best choice would be PVC pipe. That would keep the trailer relatively lightweight, and would only require basic tools/skills to design and build.
I built this PVC pedal car 7 years ago, and despite a bunch of doubters adamantly telling me the PVC would never hold/last, seven years later it's well used and I have had zero problems with the PVC. The only thing that failed on me in that time was the cheap knock-off derailleur, and I simply replaced that with a really nice Shimano derailleur.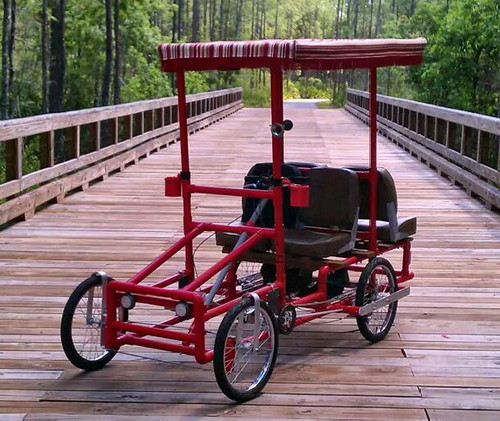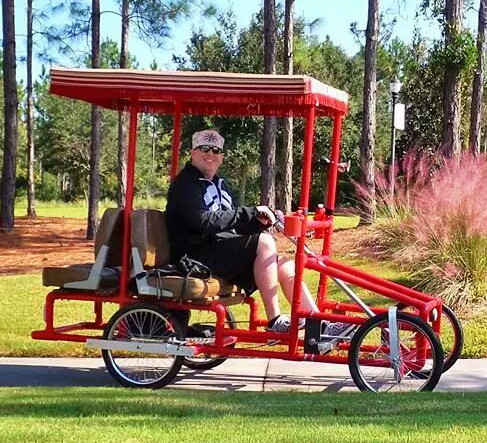 For a water bike trailer you could use the design of the rear "axle" for making a trailer. The 16" rear wheels are mounted on aluminum brackets (which you can get at hardware stores), but you could also just use wood or even reinforced PVC pipe. It's 1.25" PVC pipe and the two bottom rails (highlighted in yellow in the pic below) have a chainlink fence top rail pipe going through the entire length for added strength. The PVC pipe highlighted in green in the same pic has 1" wooden dowels going through them for added strength as well as providing something more solid to drill/bolt through for mounting the seats. You could do something similar with the trailer. With these reinforcements in the PVC pipe, the pedal car has a rated capacity of 400lbs, but I've actually had four adults on it (which was > 500lbs) with no issues other than it being rather difficult to pedal that much weight.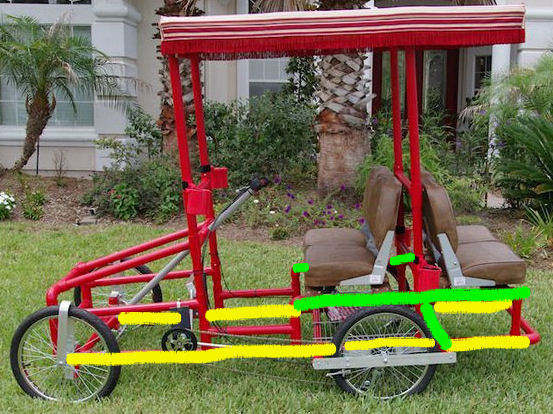 That's what I would use for your project, but as you may be able to tell (haha), I'm quite the fan of PVC pipe.