Went to check both of these kayaks out today, and it was nice to finally meet Andy and see the shop. I've been meaning to do that for years now! I didn't test drive either kayak, but I think I might try the Next Drive in the near future. In short and on first look (in person), I would definitely have to rate this kayak as a legitimate contender. Next did a really good job on it, and apparently it's still in "prototype" phase so they'll probably make a few improvements still. Since you won't be able to find it on the Next website, here are some pics (with some comments/observations):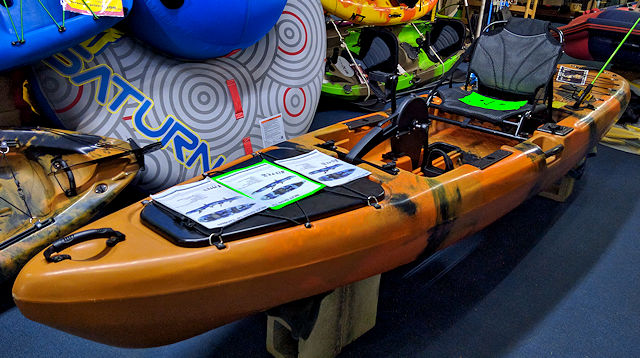 This seems like a very paddle-able kayak, which is a great feature for a pedal kayak since you can't always use the drive. The front is an open tankwell with a loose cover (rather than a hatch), which I personally prefer. There is at least one (maybe two?) scuppers in the front. I'm not sure if any of those scuppers can accept a transducer.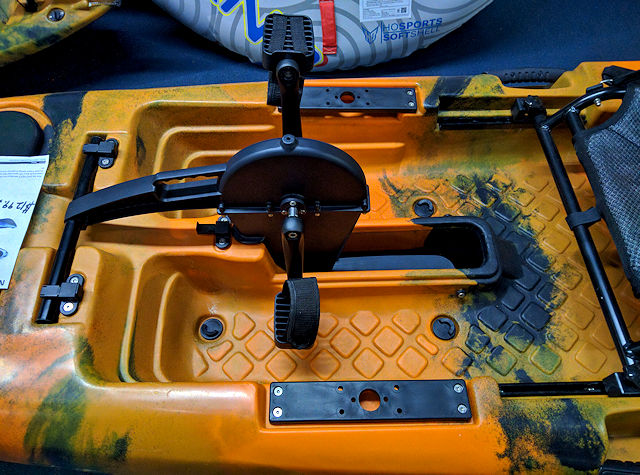 The drive seems like a pretty solid design, likely with some really simple gearing going on inside given the larger size of drive. There is a slight "growl" when pedaling (I only hand-cranked it in the store), but definitely no more of one than Native's. The drive itself mostly rests on a very sturdy piece of the hull right in the middle of the cockpit. It can be locked in the down position with a simple slidelock, but it doesn't need to be to pedal it. Actually, not locking it in place is probably best, so if you hit something with the prop it'll kick up. The slide locks over the drive lift hinge pipe are a little wimpy, and there's room for improvement there. There's really not much weight/force put on them though, but they probably need to improve that, maybe by making the slides longer and having them lock all the way across the hinge rather than just on one side. Again, this is still a prototype, so they'll likely still change some things. It would be better if the mounting plates on either side of the kayak were gear tracks, but just eyeballing the plates, it looks like they'd be a perfect fit for 8" Scotty low profile gear tracks which can easily be attached to the plates.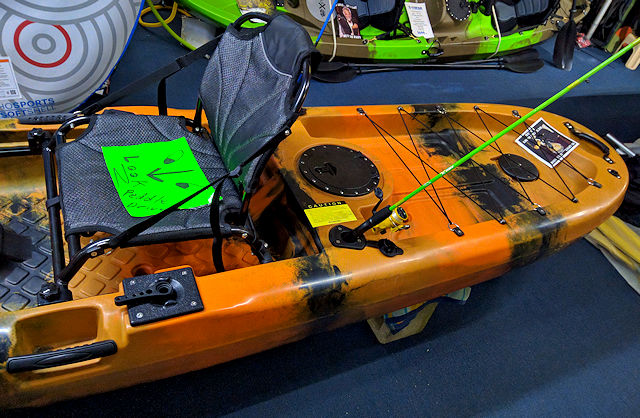 The seat looks good. It's not height adjustable, but does slide forward and back on gear track so it's adjustable for all pedaling heights. That being said, the seat is already rather high, and there's plenty of storage underneath the seat for tackle, etc. You can see the rudder control to the left of the seat -- it was very smooth. I don't have a pic of the rudder, but it's not a deployable one like Wilderness Systems/Perception, and is built into the hull similar to Hobie/Native. I'd personally prefer it to be deployable, but considering Hobie and Native went this same route, it's hard to fault Next for doing it. On right side of the kayak opposite of the rudder control is a flush rod holder. I suspect that you could switch the rudder control to the other side, but it's going to leave screw holes. I believe that's a 6" storage well behind the seat and it does have a catbag in there. There's a lot of storage in there as that part of the hull is pretty deep.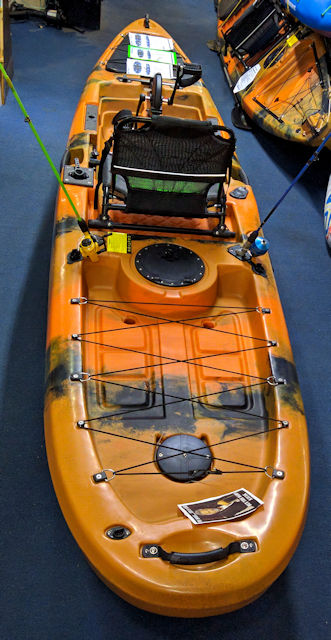 The rear tankwell is HUGE. Every other bungee point is detachable. The circle near the very back of the tankwell is the rudder. It appears that the rudder is basically just a scupper hole and that top circle is where the steering cables are attached. I do believe that circle rotates when you steer the rudder, so you would have to be careful what you put on top of it so it doesn't interfere with steering the rudder.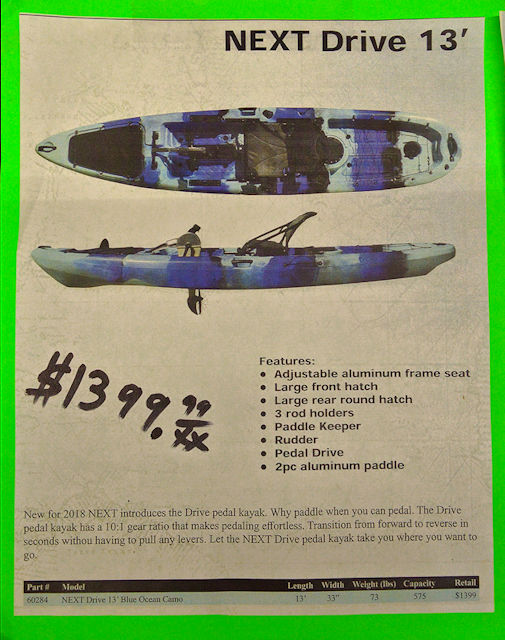 This is about the only spec sheet you're going to find with this kayak still being a prototype. Three things that stood out to me:
(1) Only 73lbs? Even if that doesn't include the pedal drive, that's incredibly lightweight for a pedal kayak. Just FYI, the hull doesn't feel thin/wimpy. It feels at least as good as both my Perception kayaks both of which are pretty heavy (at ~70lbs) for what they are.
(2) 575lb capacity? I can't wait to try this on the water. I'm especially interested in seeing what kind of stability vs. speed it offers (paddling and pedaling). Usually you can't get stability and speed, but I highly suspect this might be a near balanced blend of the two.
(3) $1,400 MSRP? That's what most bigger name paddle kayaks cost (if not more). This is a steal of a deal.
I'm down here at the Nocatee house for Spring Break, but heading back up to Virginia at the end of the week. When I come back in the Summer, I'm definitely going to give this thing a test drive, and might end up with a new kayak to use while down for the Summer.
Incidentally, the other Next paddle kayak (13') is a really nice rig with rudder included for only $700 MSRP. It reminds me a lot of the Vibe Sea Ghost but a few hundred less on even that pricetag.