Late last year I bought a nice new Manta Ray 14 to go along with my Ultimate 12. So, winning the Trident 13 at the GKF Harding Tournament gave me three fishing kayaks and two kid/play SOT kayaks. Although, I really didn't NEED the Trident, I didn't want to get rid of it as it sort of complements the other two. I also liked the idea of having two fully rigged (rod holders, FF/Sonar, etc…) kayaks, which allows me to take friend along, if needed. But this left me with the very good problem of how to transport and store all of these kayaks.
My solution was build out a Utility trailer to be a Kayak hauler. It's really overkill for my needs, but I had fun building it. The basic idea was to build a trailer that I could put together and take apart, if necessary (although I probably never will). This gives me the option of having a Utility trailer by itself.
I started with a used 4 x 7 Utility trailer I found on Craigslist. It came with a ramp that I thought would be easily removed. But I later found out that I had to cut it off. I cleaned it up, installed a new light kit, and gave a quick touch up paint job.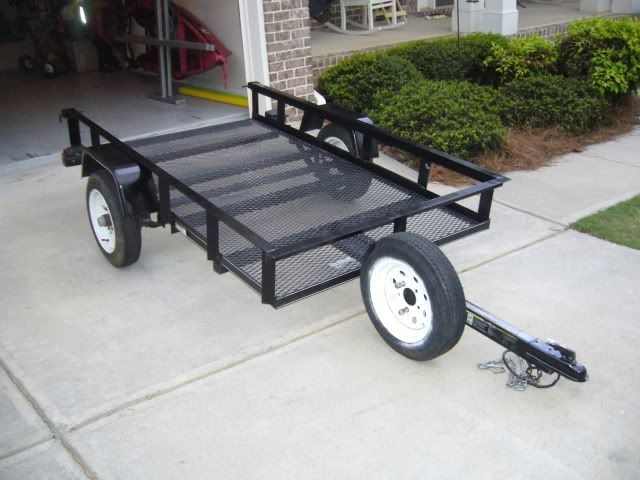 I then needed something to use for the kayak rack. I went to the hardware stores and the only I could find that would be strong enough was black iron piping. I really didn't like this idea, so I eventually found a guy that sold me 6, 8 foot pieces of 1.5" x 2.5" box iron for 20 bucks. I had to use $50 in gas to go get it, but it was still worth it.

I cut it to the lengths I wanted and ripped pieces for the end caps, and then had a friend weld it up for me. I then gave it a good paint job. I was going to go with black, but decided it might get to hot in the sun and could effect the kayaks, if they were touching it. So I went with Grey/Silver
In meantime, I was building out the box to go on the trailer. The box serves two purposes. It allows me to store and lock away A LOT of gear (fishing, camping, bodies, etc…) and it give the bars something to bolt too, to add stability. We nicknamed it the coffin.

I gave a lot of thought on how I wanted to design the box to give me maximum access, while still being weather proof. I used silicone on all the joints and corners, and used a weather proofing rubber strip where the lid contacts the box. I applied many coats of deck stain/weather sealant. The lid is sturdy and locks with two padlocks. The box is made out of ¾" ply board, with a center "spine". Notice the small hole coming out the rear of the box. The idea here is to allow the longer rod tips out the back, while not allowing the reels to fit through. I used the rubber weather stripping to provide a cushion for the rods.
The rest of the pictures are of the finished product, after bolting the pieces together. I bought a couple of pairs of Yakima Land Shark kayak saddles to mount to the bars, and I have a couple more on order. In the end, I can haul four or five kayaks and tons of gear.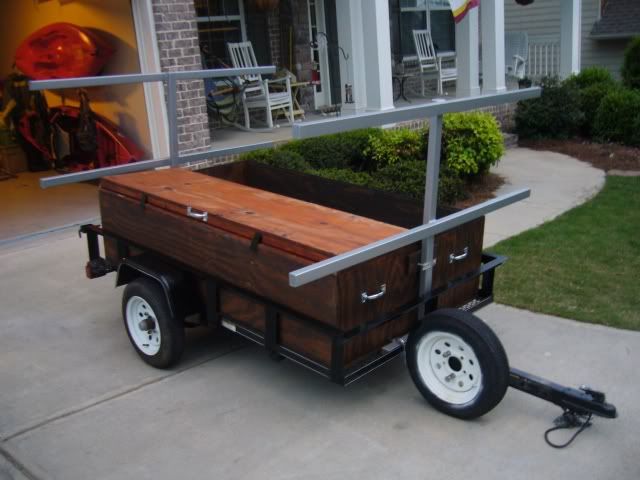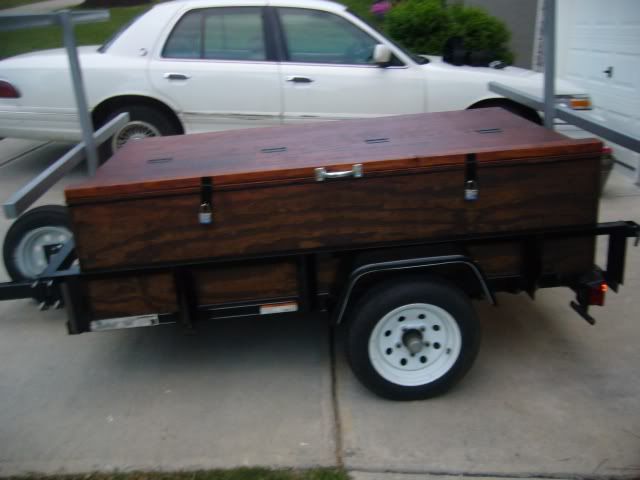 The trailer also acts as the storage for my kayaks in my garage. One key measurement was to build the bars to allow for that top kayak to get in and out of the garage. I measured correctly. 8)